Those girls in the TV commercials of hair oils and shampoo keep flaunting their voluminous hair as that is their sole job. But, I would be lying when I say they don't make me cringe for some reason. I mean how someone can have so gorgeous and thick hair. Are they even for real? I know most of you must be thinking this while watching those commercials. And in this era where hair fall is so common, those girls look nothing less alien. But, hey hold on! I am not here to bore you with the home remedies to stop hair fall and all those stuff but here I am to help you in some rather another way. Here I am listing ten fabulous hairstyles to add volume to hair.
P.S – Don't worry making these hairstyles is not tough and would not require you to check the tough YouTube tutorials.
1. Messy Ponytail like Deepika
If you are a Bollywood fan then you must have noticed that Deepika is mostly seen in her signature messy ponytail look. Her looks drop dead gorgeous and voluminous in that hairstyle. But that does not mean she is blessed with great hair rather she is blessed with a great hair stylist. You can do the same with your hair too.
Steps
Back brush or tease your hair and let it stay messy.
Do a mid-rise ponytail without combing your hair. Just use your hands.
Use your hands to pull your hair a bit more from the crown side to make it look like you have a pouf.
Use your hands to tease the fall of the ponytail for the messier look.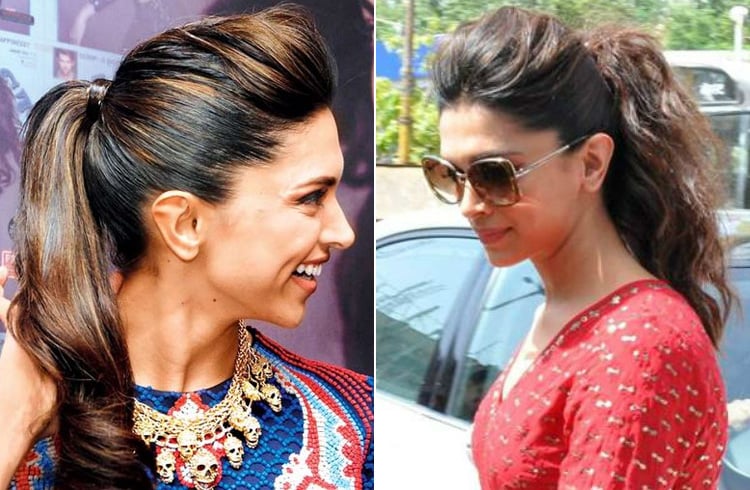 2. Lower Curls for Every day
We all like voluminous hair and one of the easiest hairstyles for it is curling your hair from the bottom. It is pretty easy and if you can do it using heating tools for special occasions then that is also fine. But for the daily use, you can switch to rollers or braiding process to keep your hair safe from severe heating. Give it more bounce by creating more curls.
3. Mermaid Braid just like Princess
Gone are the days when mermaid braids were only for the Disney Princesses. We are real-life princesses and to feel like one, do try out these braids. They are gorgeous and easy to make. You can make this braid simply through these steps.
Either do a simple or French braid.
Use your hands to pull out each section of the braid outwards and make it look fuller. This would give volume to the braid.
For casual days, end it here. For special occasions, you can use some flowers or other accessories on it.
4. Pouf Styles Just Like Alia
Alia has always been popular for the fabulous hairstyles and she has also flaunted a lot of pouf hairstyles. The pouf is the simplest way to add volume to your hair instantly. And making it is simple. You can do pouf ponytails, pouf bun, pouf braid and so many things with the pouf styles.
5. Beachy Waves Even During the summers
No matter how volume your hair has, it if is straight then it would look a bit thinner. So, always switch to the curls and waves. Using the curly rods and the curly iron tools are great for the perfect beachy waves but it is not good for daily use. For the regular use, you can use curlers or rollers. They would give the same effect.
6. Messy and Crazy Bun/Up-do
Anything messy can add volume to the hair instantly. One of the fabulous hairstyles to add volume to hair is this one. You can make the bun of your choice either a simple one like a donut bun or a braided bun, basically anything of your choice. The steps would be quiet similar to the first hairstyle. Just you have to do bun instead of a ponytail.
7. Leave the Washed Hair Un-brushed
One of the easiest ways and most fabulous hairstyles to add volume to hair is keeping the hair un-brushed. Especially on the days when you have washed your hair then your hair is already tangled and look messy and voluminous. So, you can leave your hair as it is and head out flaunting your hair. This step is tried and tested so trust me even if your hair dries, it will look like fab.
8. Short Bob Curls for the Short Hair
You must be wondering that we are only talking about the long hair which means that the girls having short hair cannot have volume in their hair. Well, this is not correct. Even the girls who have extremely short hair can go for short bob curls. This would change your simplest look to something edgy and modern.
9. All Over Voluminous Curls like Kangana
Yes, true! We love Bollywood like that. I agree that this hairstyle is a bit bold and requires a lot of guts to carry it on a regular basis. I guess you would have to hit the salon for getting a perfect look like this one. But for some days, it is perfect.
10. The Sassy Top Knot Pouf Bun
One of the most trending hairstyles these days is this one. The hairstyle is popular on the runways and even for the street styles. Making it is quite simple and you would look sassy as ever.
Steps
Divide the hair into halves, the crown and the below part.
Take the hair of the crown part tease it well.
Using hands, tie a knot or bun on the upper area.
Pull off some hair to create a pouf effect.
Backcomb and tease the hair on the lower area too.
These were some of the fabulous hairstyles to add volume to hair. I hope these would help you all the time. Let us know which one of these you are going to try. We are waiting for your comments below. Our favourite has to be to be the last one and pouf bun.