1.Sonakshi Raaj- Awarded with numerous National and International awards, Sonakshi Raaj has snagged up the position of the best upcoming designer of the year (2016). Sonakshi Raaj's name is synonymous with Sari-Gown and you could easily say she is the pioneer designer for Sari-Gown, her Indian couture line 'Label' offers a wide of collection from movie stars to everyday people in India and Overseas.
Get in Touch:sonaakshiraaj@gmail.com
2. Nikhil Thampi- Nikhil Thampi is one of India's upcoming fashion treasure. With his roots from all over the world, it certainly reflects on his contemporary fashion style, and it makes his design most striking than the crowd. His edgy and quirky Indian style is for every minimalist and for an extravagant group of customers, which makes him one of the top designers to look out for this year.
 Get in Touch:nt.label@gmail.com
3. OSSA by Adarsh Makharia- Inspired by the formal Japanese flower arrangement Ikebana, Adarsh Makharia displays an amalgamation of intricate geometric technique, printing, dyeing and cultural influences on his designs. His brainchild OSSA is primarily dedicated to wedding couture, encumbered with creative flare of Indian textiles with an air of sophistication and elegance which is why Adarsh Makharia's collection has every bridal group swooning
Get in Touch: http:http://www.osaa.in/
4. Bhumika Grover- Bhumika Grover unique breezy urbane-Indian design is adored by women of different age groups. Silk, georgette, complex hand embroidered work there's nothing that gets fazed by this young designer. Her designs involve an elaborate play of fuchsia pink and pastel shades that please every eye. You can get her designs in her exclusive 'Bhumika Grover' store Delhi.
 Get in Touch:bhumikagrover@gmail.com
5.Roshni Chopra- You might have known her as an Indian Television star and IPL host, but her introduction as a fashion designer has blown everyone away. Roshni Grover's designs are a melange of Bohemian meets Chic. She spins elaborative Indian motifs in her collection yet manage to give it Global influence a perfect combination of authentic Indo-Western style, this is one of the reasons why her designs get top-tier priority by famous celebrities.
 Get in Touch:roshnichopradesign@gmail.com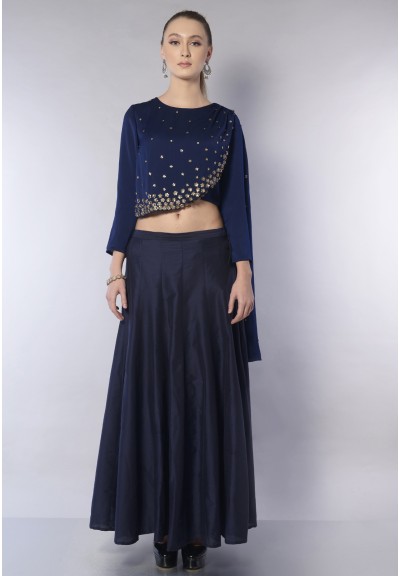 6. 5X by Ajit Kumar- A graduate from NIFT Delhi, Ajit Kumar's fashion is dedicated to women across the globe. His fashion label 5cross represents from casual to ethnic wear. Subtle floral designs, soft flare and a variety of colours fit for everyday wear are what defines Kumar's collection best. His casual elusive style draws the attention of those who prefer the light yet stunning look.
Get in Touch:ajit@asmaraindia.com
7.  Kanika Goyal- From NIFT (Delhi) to Parsons School (New York) and many internships later, this young designer Kanika Goyal embarked on a fashion journey of her own. Geometric designs and Punjabi Phulkari set the stage for her design inspiration. Cool, casual unisex wear infused with fun colour is her forte. Her designs are minimalistic that every millennial would want in their wardrobe.
Get in Touch:info@kanikagoyallabel.com
8. Abhijeet Khanna- Abhijeet Khanna has emerged as such a designer whose product can be worn and appreciated every day without fail. His designs are your everyday wear with a global appeal, from subtle to bold designs, his label RISA has something for every woman. He has worked under the esteemed designer Manish Arora and has gained international recognition.
Get in Touch: abhijeetkhanna@hotmail.com
9. Fatima Punjabi- Fatima Punjabi found her couture inspiration in the homegrown soil of India, her brainchild 'Mati' is derived from the Sanskrit word which means soil and the label is a true reflection of it. Mati is a composition of handwoven fabric, comfortable silhouette, beige colours of earth, and Fatima Punjabi delivers this experience to her customers.  
Get in Touch:info@stylemati.in
10. Shruti Chopra- Aspired to be a Fashion Designer from tender years, Shruti Chopra is one of the Young Designers to look forward this year. Her label 'Selvaggio Moda' represents unique western wear whereas her second label 'Shruti Chopra' is dedicated to authentic ethnic Indian attire. Her designs formulate intricate beadwork patterns, breezy silhouette and bold colours which were one of the highlights of Bangalore Fashion Week in 2017.
Get in Touch: sales@shrutichopra.com
11. Parimala Shetty- Based in Bengaluru, Parimala Shetty has embarked her official fashion journey from Bangalore Fashion Week 2017. She impressed the audience with vibrant colours, subtle design, elegant artwork and beautiful sarees. She fine-tune her work with nature, and you can see floral arrangements, birds etc in her designs.
Get in Touch parimalaa.shetty@gmail.com
12. Vidhi Wadwani- Flowy silhouettes and comfortable fashion, Vidhi Wadwani's collection is a reminder that beauty is in the comfort. This Nagpur based young designer has displayed her designs at Lakme Fashion Week multiple times and has won the hearts of celebrities as well as regular people with her casual yet elegant attires.
Get in Touch: INFO.VIDHIWADHWANI@GMAIL.COM 
 13. LataSita by Meghna Nayak- Where the whole world is busy upgrading their wardrobe every year, Meghna Nayak popularized the concept of Upcycling under her label 'LataSita' Got a beautiful saree at home, but craving for something new? Don't worry, LataSita has something unique wrapped under their sleeves for you. Her label is a portrayal of sustainable living and unique creation with something already existing.
Get in Touch: latasitadesign@gmail.com
14. Ragini Ahuja- Ragini Ahuja, a fairly new designer in the industry goes by the cool and casual mantra. Her designs are vibrant, dark, with symmetrical designs which give her clothes an elegant yet edgy look. Androgynous style is her forte, which appeals to her fans the most.
Get in Touch: theikaispace@gmail.com
15. Josh Goraya- Be it a bohemian collection or an indie wear, you can easily trust Josh Goraya's designs. His couture is all about uniting several cultures via the medium of fashion and design with affordability. He is not afraid to use bold colours and varied texture into his designs.
Get in Touch: INFO@JOSHGORAYA.COM
16. Pratima Pandey- With floral sequin style and believer in eco-friendly fashion, this Grazia Young Awards winner is all set to take the fashion grounds. Her designs are influenced by the traditional Punjabi dabka embroidery which makes her designs popular among the traditional as well as the urban audience.
 Get in Touch: pramabypratima@gmail.com
17. Yogesh Chaudhary- 'Surendri' by Yogesh Chaudhary is about bringing out feminine sensibility. Yogesh Chaudhary does not shy away from highly stylized cuts, full flare and tender feminine characteristic in his designs. He employs bold colours, symmetrical and ethereal patterns which allure the audience.
Get in Touch:www.surendri.com
18. Nupur Kanoi- Nupur Kanoi's crafts feature an artistic vivacity. This young designer is all about fusing traditional with contemporary, the usage of tie and dye in her designs is refreshing to look at.
Get in Touch:nupur.kanoi@gmail.com
19. Dhruv Kapur- Dhruv Kapur's brand 'DRVV' is about embracing individuality, Kapur's use of dark- grey shades contrasting colours, minimal designs with a punch of elegance makes his label different from the rest. His designs are all about what a comfortable urban woman would love to wear.
Get in Touch: druv@drvv.in
20. Ruchika Sachdeva- Culture, tradition, Individuality, expressions, Ruchika Sachdeva's designs are beyond the bounds of designs. Each of her creation has a story to tell, she focuses on androgynous fashion. Her label 'Bodice Studio' is a true work of art.
Get in Touch: www.bodice.co.in
Check out these talented young designers and choose your own trend for 2018.
Cheers!