As it has been said," the right jewellery is what completes a woman's look".
Jewellery is accessories that are always meant to accentuate the beauty, grace, femininity and exclusivity to a lady. They have the power to instantly change the drab ordinary dress look into fab costume.  India jewellery has its demand all over the world and we are glad to be blessed with some talented Jewellery designers who have been producing the choicest of gold, silver platinum, diamonds to semi-precious gems.The unique designs give a great boost to single and married women and would-be brides to wear and flaunt them occasionally and in everyday life. With the expertise and guidance of India's famous designer's jewellery buying can become a cakewalk.
Amrita Singh
Her jewellery had a blend of old-world aesthetics with new world fashion.  Even Hollywood celebs like Jennifer Lopez, Blake Lively and Jessica Simpson are fan of her style.  Taking inspiration from  Mughal Indian jewellery and accessories she creates magic.Currently, she is working towards her two fashion lines: contemporary jewellery which includes innovative collections such as Bangle Bangle, and fine jewellery collection, Maharaja Jewels Her variation and urge to explore different jewellery making techniques has made to be in the nomination list many times by Fashion Group International (FGI).
Now she is exploring other fields by designing scarves, specially-designed bangle towers, jewellery and cosmetics cases, iconic handbags, and a wide range of home decor items.
Farah Khan
A celebrity jewellery currently working for richest Indian businessman families and top Hollywood celebs. 15 years of her experience boast a lot about her of diamonds, kundan, polki, white and yellow gold, platinum work. At the international level, she has designed for Swarovski when she participated in Swarovski 5th Anniversary celebration for Runway Rocks that was showcased in Mumbai and London in the year 2008. She is certainly the dream jewellery designer of every wannabe bride. Her bridal lines especially most exquisite pieces are rings and earrings has the power to transforms the brides on her special day.
Suhani Pittie
known for adding wow element through her jewellery. Her work made her way in the Fortune magazine as one of the five people to watch out for, in India. She has been one of the top 10 ingenious jewellery designers in the world by the World Gold Council.The list doesn't stop here, she is the recipient of the 'Singem Award for Excellence' in the field of Gemology, with the Young Women Achievers Award 2012 for her contribution to fashion by YFLO (Young FICCI Ladies Organization).
She was handpicked to showcase her collections to an exclusive audience comprising of Prince Charles, Prince of Wales, Camilla Parker Bowles, Duchess of Cornwall, Prince Edward, Earl of Wessex and Maharaja Gaj Singh Ji at the Bal Samand Lake Palace, Jodhpur.
Poonam Soni
She has started her business and is among the first few jewellery designers in the country who added glamour to the jewellery making business.  Famous for her exclusive bespoke pieces and wedding collection inspired by Indian history and royalty. Her work usually involves a lot of colour play and the use of different gemstones.
Nitya Arora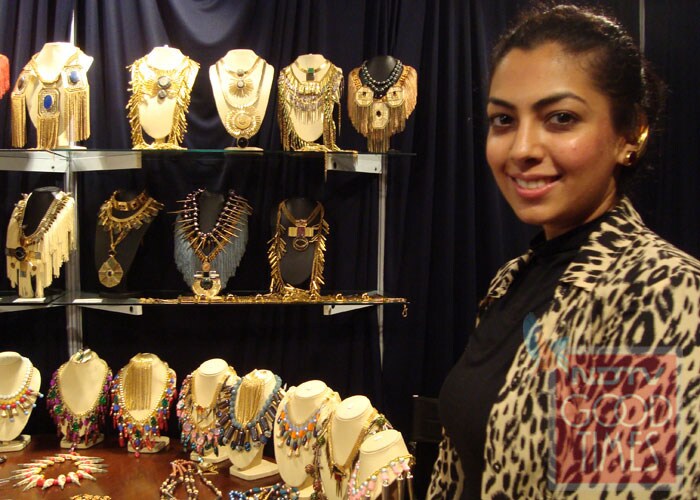 She is the founder of Valliyan, a young accessories label known for sing playing a lot of semi-precious stones, crystals and rare materials. The designer has come a long way after completing her education from Parsons School of Design, New York, she is the winner of Grazia Young Designers Award for Best Accessories Designer and the 'Best Jewellery Designer' award in 2013 by Elle magazine.  All the jewellery, handbags and headgear are handcrafted to perfection for the free-spirited woman.
Asha Kamal Modi
Art Karat, an exclusive label of custom made and affordable jewellery by Asha Kamal has launched her in 1988. She has been trained as a  gemologist and known for her bridal costume jewellery. She likes to keep her collection grand and traditional at the same time. Her magnificent jewellery collections feature heavy gold necklaces, oxidized rings and Stunning chandelier earrings that have been shown in some great Indian films like Devdas and Kamasutra's. Her shining jewellery is certainly every Indian bride crushing over her collections.
Varuna D Jani
Awarded as the "Best Jewellery Designer" by the Indian Bullion & Jewelers Association and women super achiever award in 2009 by Asia retail congress. She is known for creating handcrafted jewellery for her clients and customise them according to their wish and style. Her unique customize jewellery is unique and praiseworthy. Her popularity has made her open her own store that she launched in 2008.
We are sure with so much variety and styles of jewellery design that we are sure you will need no other names when it comes to buying your jewellery. Try out these jewellery designers and let us know what you think.