Who doesn't like long flowy tresses and beautiful manes! We all get awestruck by the gorgeous and healthy hair of the girls in the TV commercials. But hey wait, their hair can be edited to make it look better on screen. And this means they are not the only God gifted creatures on earth of fabulous hair.  We all can have gorgeous hair and it requires nothing more than a little bit of care along with ignoring some major hair care mistakes that we do.  Here are some of the very common and not so clichéd hair care mistakes most of us do.
P.S – Do not just scroll, read an procrastinate but also improve on these mistakes.
1. Not Conditioning Properly
Conditioning is really very important for your hair. Most of us think just shampooing our hair is enough to make it look smooth and silky. But this is not the truth. Conditioning our hair provides sheen and lustre to it. It is really important for the hair quality and if you have frizzy hair then, conditioning should be a part of your regular routine.  You can either use conditioners available in the market or can also trust some natural conditioner like henna, ayurvedic hair packs and creams. 2. Not Oiling on Regular Basis
We hated oiling our hair when we were in school. And we often ignored this and let me tell you that you have already been harsh on your hair by avoiding this. Oiling helps in hair growth and nourishment. Other than that it helps in smoothing your hair, getting rid of split ends and making it shinier and glossier. Avoiding this can make your hair dry, brittle and can really worsen its condition.
3. Using Too Many Chemicals on Hair
One of the major hair care mistakes which we all do is using too many chemicals on our hair. Unless you are using an ayurvedic shampoo, all the other shampoos have a lot of chemicals in them. Try using ayurvedic shampoos in this case or at least use those shampoo which is paraben free. And instead of using chemical conditioners, switch to natural conditioners and cut down the use of chemicals. An excessive chemical is never good for yourself delicate hair.
4. Using a Lot of Heating Products
No matter which heating product you are using, each of them is harmful to your hair. These heating products claim to have protective sheet and coating which is true but still, they hamper the quality of your hair. Stay away from them as much as possible.  These make your hair dry and brittle. Still, if you have to use these products make sure to condition and take care of your hair properly. 5. Using a Lot of Tight Hair Ties
It is a common scenario during the summers that we get super irritated because of our long hair and tend to tie then tightly with tight hair ties so that our manes do not bother us. And let me tell you that this is one of the biggest hair care mistakes we all do. Using tight hair ties do not let your hair breathe.  They also make your hair weak and more prone to breakage. Avoid this if you do it too.
6. Not Cleaning the Hair Properly
It is very important to shampoo and cleans your hair regularly. Shampooing once a week or every next day is not the way to sort your hair cleaning routine.  Everyone has a different hair type and you have to check how your hair behaves. Some people have oily hair so they need to shampoo their hair every next day. But if your hair is dry and normal then cleaning it twice a week is perfect.  These silly hair care mistakes impact you hair majorly.
7. Not Covering your Hair While Going Out
I am sure that most of you, just like me, must be making this one of the commonest hair care mistakes. We all think so much about our skin and face and never step out of the house without sunscreen and others sun protectants. But hardly do we care of our hair in this case. Getting out gets our hair prone to pollution, sun rays and dust can make your hair lose its natural lustre. Hence, it is very important to cover your hair before going out and try to use some effective hair protectants from the sun.
8. Wrapping the Hair in Towel
One of the biggest hair care mistakes which I am sure most of you do is wrapping your hair in a towel. I used to do this too but I have stopped doing it and you guys must too. Wrapping your wet hair in a towel can put a lot of strain on your hair strands leading to hair breakage from the midway and also leading to massive hair falling because of the weakening of the hair.  Stop doing this right away if you are habituated to it. Instead, let the hair loose and let them dry.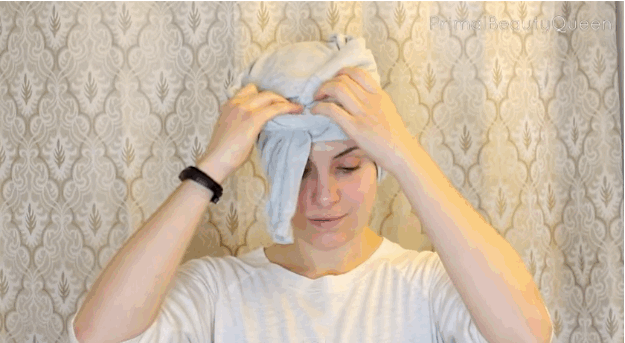 These were some of the most common hair care mistakes which we all do. It is high time girls, that you should avoid doing these mistakes. We don't pay much attention to these silly mistakes and such random details but doing these regularly can damage your hair severely.