We were happy being at India Fashion Week's Spring Summer 2019 that is happening at the Jawaharlal Nehru Stadium. This year FDCI has announced Lotus Make-up as its title sponsor after beating Amazon. Hence the fashion week has been rechristened as the Lotus Make-Up India Fashion Week Spring Summer 2019, LMIFW SS'19. We feel  FDCI and Lotus were a perfect match as the synergy is ambient and invigorating.
We are delighted with this collaboration and thought of coming up with the best make-up products from Lotus Herbal Makeup range worn by Kajal Mishra while attending LMIFW SS'19
Lotus Herbals has launched a new & improved EcoStay range of make-up products, that includes foundations, compacts, eye-shadows, blushers, mascara, lip glosses, and lipsticks. Let's have a look at our personal favorites.
1-Lotus Herbals Compact
The packaging of this compact is an absolute delight as it comes in a satin pouch with a pretty pink, mirror-finish cover. The powder is available in 5 different shade that goes with all skin types.  Talking about the finish, it feels as soft as a feather on my face. It will give you a matte, soft finish with complete coverage from blemishes and open pores. The matte nature controls oil and remains set for the whole day long with SPF 20 protection.
Our pick: Lotus Make-up ECO-STAY LONG LASTING COMPACT SPF-20 ALMOND

2-Lotus Herbals Eyeshadow
The new eyeshadow range from Lotus comes in a cute, sturdy, mirror finish pink box.  This compact box has four different shades  that are perfectly embedded inside the palette.  The big size mirror is enough for you to carry out all makeup steps. You will get an applicator brush with shades the tooth application of the shades.
Our pick: Lotus EcoStay Long Lasting Eye Shadow – Rainbow Passion
3-Lotus Herbals Lip Color
Lotus has come up with 33 stunning lip colors packed beautifully in a  metallic bullet form with the shade of mattes and semi-mattes name written on it. To protect your lips from the sun it contains SPF 20 and is free from preservatives. Just one stroke is enough to give a nice thick well pigment. The best part of Lotus lip color is that it is smudge-proof so now you can eat, drink without being scared of color removal. Keep your lips moisturized beforehand if you are applying pure matte lipstick.
Our pick: Lotus Make-up ECOSTAY LONG LASTING LIP COLOR APRICOT BLISS_4.2g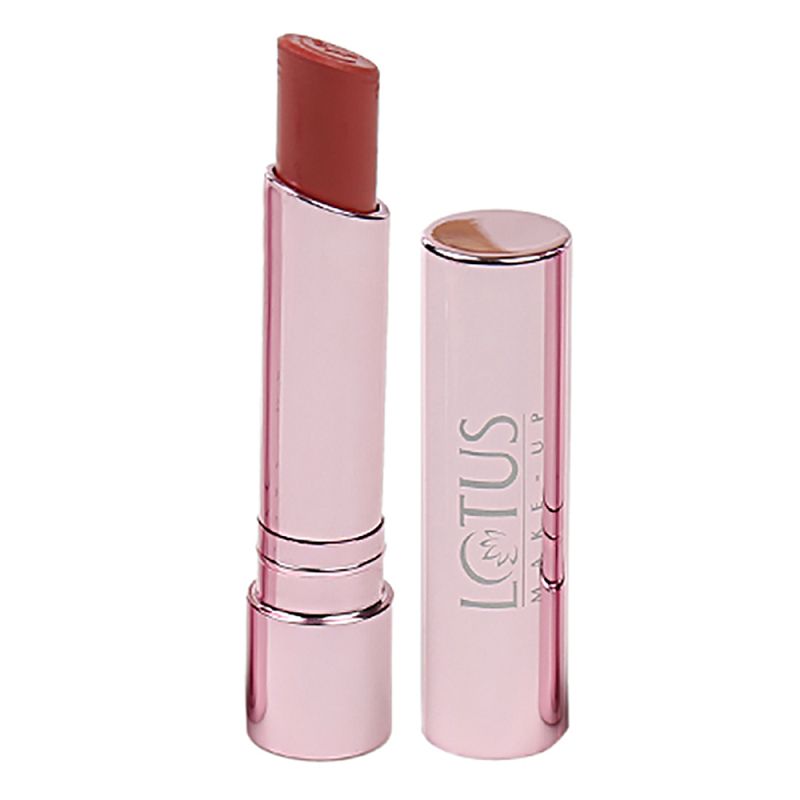 4-Lotus BB Creme
Lotus herbal BB cream has gained a lot of popularity after it's launch. This tinted beauty cream is the perfect mixture of a foundation, beauty cream and sunscreen meant to give you even tone with long-lasting hydration and sun protection. Xpress Glow comes in a bright pink squeeze tube in two different shades – Royal pearl for medium to fair skin tones and Bright angel for dusky to medium skin tones. The creamy, smooth texture spreads easily and feels light on the skin. with a mild floral fragrance.
Our pick: Lotus Xpress Glow 10-in-1 Daily Beauty Creme SPF25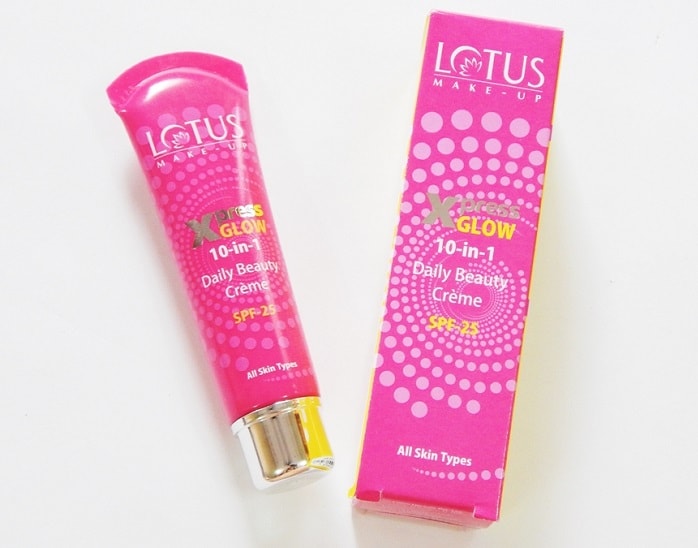 5-Lotus Herbals Nail Enamel
Lotus has launched its crystal shine nail enamel that gives sheer beauty to your nails. Shades like Angelic, Ruby Desire, and Silver Chrome looks absolutely gorgeous with just one stroke on the nails. Also, Lotus has come up with colors like dew, mint green, and corals that can be worn with almost all outfits throughout the year. The colors are chip resistant and come and their ecostay high shine nail paints dry up super quick to give a really smooth finish once they've dried off.
Our pick: Lotus Make-up COLOUR DEW NAIL ENAMEL GOLD MIST (7 ml)
6-Lotus Makeup Primer 
This insta-Smooth primer from Lotus Herbal comes in a compact pink colored outer box with a rose gold cap.  It claims to be100% vegetarian product without any additional color. I loved the gel base which instantly blends within the skin because of its perfect smooth consistency. Just after use, your skin will start to feel soft and light. Designed to suit all skin tones and types it will remove dryness or patchiness with an instant natural glow.
Our pick: Lotus Make-up ECOSTAY Insta Smooth Perfecting Primer 30gm
7-Lotus Herbals Mascara
Lotus has come up with a pretty rose gold packed volumizing mascara that stays for longer with no preservative to harm your eyes. The unique design of this mascara brush enhances the lash length, thickness, and volume without smudge and clumps. It is great for people who want to keep their lashes moisturised all day long with a natural fuller look.
Our pick:
Lotus Make-up ECOSTAY VOLUMISING MASCARA BLACK (8G)