MTV movies and TV awards are one of the most popular award functions of the world. Seeing the favourite celebs walking the red carpet of the MTV awards is always a delight. MTV awards 2018 was held recently and we were super happy to catch most of our celebs on the red carpet, through the internet of course and here we bring some of the most talked about looks from direct from the event.
The fashion we saw was experimental, playful, eye-catching and not at all disappointing. It was all justifying the MTV style and we loved it. Let us check out some of the best looks.
1. Zendaya
Zendaya was all colour coordinated in a brown short dress in archival August Getty Atelier and her high heels in the same colour as well. The dress was quite cute and old school and had a bareback. She kept her hair and makeup simple and accessorized herself with a huge sized golden earring.
2. Kim Kardashian
Kim graced the red carpet of the MTV awards 2018 in white cords by Versace. Her dress, makeup, and footwear were quite simple but what caught our eye was her finely braided hair which was the statement.
3. Lili Reinhart
She totally nailed the MTV awards 2018 with her fashion choice. The dress was quite simple but trending and it matched the vibe of the show. She wore a simple black strappy mesh midi dress by Izeta. With her hair left open and the minimal makeup, she managed to be totally good with her choice.
4. Kris Jenner
She was dressed up in a pantsuit but her pantsuit was a bit different. We don't say it totally amazing but the different kind of vibe makes it interesting and hence we listed this here. Her blazer had side ruffles and she paired it with black skinny pants and black thigh high boots.
5. Kristen Bell
Kristen wore a little black dress for the MTV awards 2018 function. Her dress was see through and had net detailing. It was all fun and flirty and she paired it with strappy heels and a statement earring. Her low sleek chic mid parted hairstyle was going quite well with the outfit.
6. Alison Brie
One of the other black dresses that we loved from the MTV awards 2018 show was of Alison Brie. It was a see-through midi dress and it totally took our heart. It was a beautiful checkered dress by Sandy Liang. She paired this with chunky black heels and went for a high ponytail which made her look ten times better.
7. Nick Jonas
How can the Indians ignore this star? Afterall, our very own PeeCee is apparently dating him. You have started looking much too cute, Nick. Nick went for an all-black ensemble by Saint Laurent and looked dapper totally.
8. Chris Pratte
He was another man who flaunted the all black look and looked dapper. Chris went for a black pantsuit with navy printed shirt and brown brogues. He looked really nice and aptly dressed for the award night.
9. Tiffany Haddish
Tiffany chose a really quirky number. She wore a tube metallic dress with mesh trail by Galia Lahav. Her dress was really unique and lived up to our expectation. She kept her entire look around this colour family with minimal hair and makeup.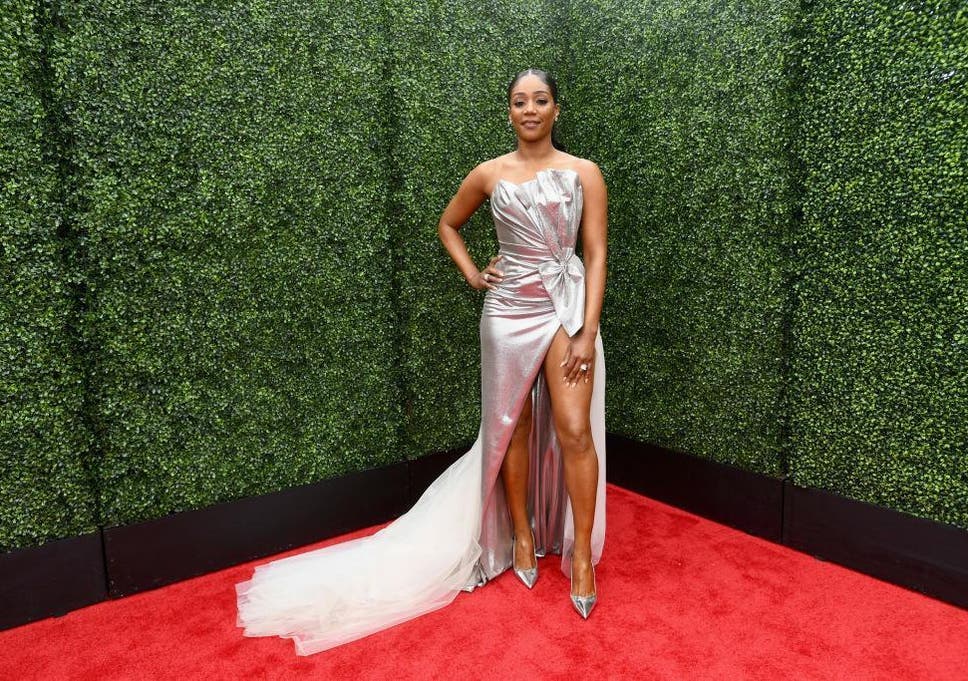 10. Yara Shahidi
She also rocked the MTV awards 2018 red carpet in a pantsuit by Tory Burch. It was a custom-made pantsuit in powder blue shade. The wrap-up pattern and the relaxed pants looked totally cool.
These were some of the best from the MTV awards 2018 night. We loved these looks over the rest of the looks. Which of the celebs you thought were the best dressed? Let us know in the comments below.