"The best fashion show is definitely on the street. Always has been, always will be."
                                                                                                                                                        – Bill Cunnigham
Do you know where the latest fashion trends hit the floors first? The streets! Street shops are basically a fashion paradise where everyone gets their share of a happy shopping experience. We picked the finest street markets around the country where you can go on an ultimate shopping spree.
1-Sarojini Nagar Market, New Delhi
Sarojini Nagar Market is pretty much considered as the shopping paradise by residents of Delhi. The capital of India gets owes all its credit to the Sarojini marketplace for making the city fashionably iconic. Sarojini Market Place is extremely budget friendly and welcome all sorts of shoppers around the globe with open arms.
2-New Market, Kolkata
From traditional red bordered Bengali saree, authentic handmade Bengali items to expensive chic dresses. Kolkata's New Market is a heaven for those on the lookout for exclusive retail therapy. From dresses, make-up, jewellery to mouth-watering food stops, New Market has a lot to offer to its visitors.
3-Arpora night market, Goa
Goa is known for hosting great flea markets and Arpora Night Market might just be the ideal place for you. This market starts at around 6 in the evening on Saturdays and remains open till the crack of dawn. If you are on the hunt for bohemian Goan style this place is it for you.
4-Commercial Street, Bangalore
Ever wondered where the fashion savvy Nama Bengaluru get their looks from? Well, of course, it's the infamous Commercial street.  From traditional look to trendiest fashion accessories, shoes to souvenirs, the Commercial street has got your back. And if you bargain hard enough you may end up with more than you asked for! 
5-Police Bazar Market, Shillong
All of us have been enticed by the North-East fashion and Police Bazar Market in Shillong gives exactly what imagined. Nestled amongst the cool hills of Shillong, this is literary a paradise for shopaholics, clothes, accessories, artefacts, and souvenirs this place has something for every shopper.
6-Tibetan Market, Shimla
This marketplace in Shimla is a winter wonderland where you can enjoy the cold weather while shopping for best in town winterwear. Tibetan market true to its name, has a lot of Tibetan items in stock like the traditional Chupa, rugs, and all sort of warm collection that is a must-have item in your wardrobe.
7-Linking Road, Mumbai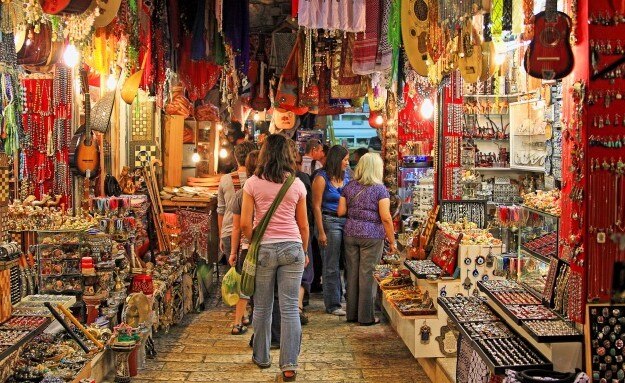 Infamous for an endless variety of shoes and bags, Linking Road is a must shop pit stop for a fashion geek. From Ultra chic urban looks to a casual hippie fashion, this marketplace caters to a variety of fashion to customers and if you have a soft spot for bags and shoes Linking road is the place where you can own a lot more with a little bargain. 
8-Bapu Bazar, Jaipur
Pink City, Jaipur is known to have a reputation to host best markets around the world from traditional Rajasthani food items to traditional fashion wear, one such market in Jaipur is Bapu Bazar. From authentic Rajasthani jewellery, lehengas and authentic Mojari footwears are among the highlights of Bapu Bazar.
9-Laad Bazar, Hyderabad
Located near the legendary monument Charminar, Laad Bazar is a celebrated tourist spot and a shopping dreamland. The market is known to offer an endless variety of colourful bangles, apart from that you can find mesmerizing sequined skirts, zari clothes, gemstones and even pearl. Laad Bazar is an ideal destination for wedding shopping.
10-Pondy Bazar, Chennai
One of the iconic shopping locations in Chennai, Pondy Bazar crowded and excitement filled atmosphere offers a true shopping experience to its visitors. From traditional sarees, colourful skirts, stylish scarves, junk jewellery and to high-end brands, there's nothing you couldn't find in Pondy Bazar. In addition to shopping, you can find mouth-watering street food here to complete your shopping experience.
Now that you have the ultimate list of shopping destinations, why wait? And do share your shopping experiences with us.
Happy Shopping.
Cheers!